98KUPD Listen Live 97.9 FM - Phoenix, AZ
This Radio Is Available In USA Only!!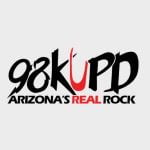 98KUPD, KUPD 97.9 MHz, is a commercial active rock FM radio station in the United States. It has been Licensed to Tempe, Arizona. It serves the Phoenix metropolitan area. Hubbard Radio, a division of Hubbard Broadcasting, Inc. of St. Paul, Minnesota, is the owner of this radio station. The location of its studios and transmitter are on North 52nd Street west of Papago Park and South Mountain Park accordingly. It has got the nomination for a RadioContraband Rock Radio Award in 2011 and 2012 as the Major Market Radio Station of the Year. It has transmitted an HD Radio signal first. Due to technical issues, it has returned to analog-only broadcasting. NBC Sports Radio 1060 is the sister station of this channel, which now airs on KSLX-FM's HD2 subchannel. Its current on-air staffs are John Holmberg, Brady Bogen, Richard Toledo, Fitz Madrid, The Shan Man, and Bret Vesely.
All Reviews For This Radio Station