WAQY 102.1 FM, Rock 102 - Springfield, MA
This Radio Is Available In USA Only!!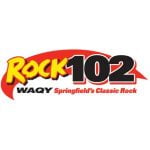 WAQY 102.1 FM is a classic rock radio station in Springfield, Massachusetts area. It has been known as "Rock 102" since the late 1980s. In Springfield, Massachusetts signed on as WCRX 102.1 FM in 1953. The call letters stood for "Charles River Broadcasting extension," it became a sister and extension of 102.5 FM WCRB-FM in Boston, Massachusetts. The Springfield, Massachusetts, and Boston, Massachusetts stations were programmed a classical music radio format overseen by the owner Theodore Jones. August 1981, WAQY switched to a Rock music format known as AOR (Album Oriented Rock). As call letter WAQY, they played a mix of new rock music from the 1980s mixed with older rock artists of the '60s. It is using "Springfield's Classic Rock!" as its slogan. The owner is Saga Communications (Saga Communications of New England, LLC).
All Reviews For This Radio Station