KISS 96.9 FM WGKS - Lexington-Fayette, KY
This Radio Is Available In USA Only!!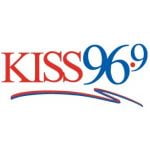 KISS 96.9 FM WGKS – is a commercial FM radio station that is broadcasting a classic hits and rock radio format and it is called itself as "KISS 96.9". It has licensed to Paris, Kentucky, the United States. It serves the Lexington-Fayette media market. L.M. Communications, Inc. Studios is the owner of this radio station, and its offices are located at Triangle Center on West Main Street in Lexington. The transmitter is situated at Houston Antioch Road, also in Lexington. It airs two weekday syndicated shows. In morning drive time, The Bob and Sheri Show from WLNK in Charlotte, North Carolina is heard. It is known as WCOZ-FM in 1992 but later it has changed its call sign to the current WGKS.
All Reviews For This Radio Station