105.9 KISS-FM Detroit, WDMK - Listen Live
This Radio Is Available In USA Only!!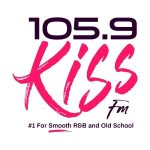 105.9 KISS-FM is widely known in Detroit, Michigan and its original name is WDMK. They usually broadcast news and urban adult contemporary format. They have placed the transmitter in Oak Park in Detroit. On May 26, 1960, they started their on-air broadcasting and named their station 105.9 KISS-FM in 1999. This radio station proved itself as the number 1 for Smooth R&B and Old School in Detroit.
All Reviews For This Radio Station