WOWO, 1190 AM Radio Live From Fort Wayne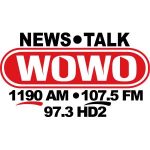 WOWO 1190 is a commercial talk station with the brand name News/Talk WOWO 1190 AM-107.5 FM. They broadcast primarily in the Fort Wayne metropolitan area. Federated Media is the owner of this station. Their first air date is March 31, 1925. Their licensing authority is FCC. It is 97 years old radio station.
All Reviews For This Radio Station
This week your signal has been terrible. I live in Wabash County. What happened. We used to get a good strong reception. Now. static. weak. sometimes during daylight hours nothing. Are you being knock down by ..?