Hot 97.5 KVEG FM Las Vegas Listen Live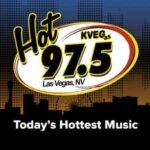 KVEG – HOT 97.5 FM radio, a station situated in Las Vegas, Nevada, and owned by Beasley Broadcast Group, has gained notoriety for providing its listeners with top-quality contemporary hit music programming. A mix of live and pre-recorded shows are delivered, featuring some of the most popular artists in the music industry, including Drake, Cardi B, and The Weeknd. Moreover, KVEG – HOT 97.5 FM radio incorporates a variety of special features like song request segments and artist interviews to keep its audience engaged.
What sets KVEG – HOT 97.5 FM radio apart from other radio stations is its remarkable emphasis on serving the local community in the Las Vegas area. 
Its programming is centered around local news and events, offering a forum for listeners to participate in through call-in segments and other interactive features. It's an avenue for the public to engage in topical discussions on social, cultural, and political issues affecting their community.
In addition to its over-the-air broadcasts, KVEG – HOT 97.5 FM radio has taken advantage of the ever-increasing popularity of streaming services to extend its reach beyond Las Vegas. Fans of the station can also listen online through its website, and via different streaming services. The station is supported by advertising and underwriting from a variety of businesses and organizations that benefit from its wide reach.
In conclusion, KVEG – HOT 97.5 FM radio is not only a boon to contemporary hit music fans in the Las Vegas area, but also a beloved institution that has garnered respect through its commitment to high-quality programming and community involvement. It's a powerful example of a radio station that has stayed true to its core values while evolving with the times to provide an even better listening experience for its fans.
https://playerservices.streamtheworld.com/api/livestream-redirect/KVEGFMAAC.aac
Hot 97.5 KVEG
Recommended US Hip Hop Radio
All Reviews For This Radio Station