VolnaFM.com - Southern California Russian Community Radio
Browser Alert!
Due to features of the new version of Google Chrome, the stream of this radio station can only be played with Mozilla Firefox.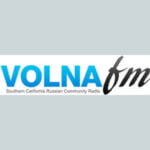 VolnaFM.com is an online radio station serving California's Russian communicatory population. The station, which offers a wide range of music and programs in Russian, is accessible online via its website and different streaming providers.
VolnaFM.com was established in 2002 as a reliable source of entertainment and information. The station's schedule consists of a mixture of live and recorded programs with well-known Russian musicians and hosts.
With outstanding music programs, this station offers its listeners news and information on the Russian-speaking community in Southern California. Local news, cultural concerns, and community activities are its main programs.
Listeners from all around the world can access this radio through its website. A variety of companies and organizations sponsor the station and advertise it.
The Russian community in Southern California can benefit from this radio station. It is a cherished institution among its audience due to the wide variety of programs it offers in Russian and its dedication to meeting their requirements.
http://173.192.207.51:8052/;
VolnaFM.com
Recommended US News Radio
All Reviews For This Radio Station