WPWX Power 92 Listen Live - 92.3 FM Chicago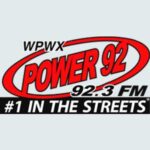 WPWX Power 92 radio 92.3 FM, is a dynamic radio station with its roots firmly planted in the heart of Chicago, Illinois. As a proud member of the Urban One media family, a company known for its exceptional broadcast content across a wide range of radio and television stations throughout the United States, Power 92 has earned a reputation for its unwavering dedication to providing its listeners with the finest hip hop and R&B music programming.
The station's music programming is second to none, boasting a mix of live and pre-recorded shows featuring a diverse array of popular artists such as Kanye West, Jay-Z, and Lil Wayne, among others.
This carefully curated playlist is designed to keep listeners engaged and entertained, with a blend of contemporary and classic tracks guaranteed to keep the beats thumping.
Beyond its music programming, WPWX Power 92 radio 92.3 FM distinguishes itself with its unique emphasis on local community engagement. The station's programming often covers the latest local news and events, providing a vital link between the station and the Chicago community it serves. In addition, Power 92 offers various interactive features that allow listeners to participate in its programming, including call-in segments and song request features.
Listeners can tune into Power 92's over-the-air broadcasts, but the station is also easily accessible through its website and numerous streaming services. This ensures that Power 92's content can be enjoyed anytime, anywhere, by anyone with an internet connection.
Support for Power 92 comes from advertising and underwriting from a wide range of businesses and organizations, which further cements its position as an essential Chicago institution. All in all, Power 92 stands as a proud testament to the power of great radio programming, community engagement, and a deep commitment to providing the highest-quality content to its listeners.
https://playerservices.streamtheworld.com/api/livestream-redirect/WPWXFMAAC.aac?dist=usradiolive
WPWX Power 92
Recommended US Hip Hop Radio
All Reviews For This Radio Station