WAMU HD2 Bluegrass Country, 88.5 FM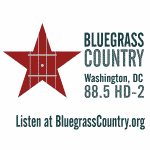 WAMU HD2 Bluegrass Country, 88.5 FM Radio is a sub-station built by listeners for listeners. It started more than 50 years ago at WAMU 88.5 FM in Washington, DC. The nonprofit Bluegrass Country Foundation is operating and funding this station. The station can be heard 24/7 on HD radio at 88.5FM (call sign: WAMU) Channel 2 in the Washington area, streaming worldwide at BluegrassCountry.org and via a free smartphone app (Apple iOS and Android devices). Its slogan is – Washington's NPR Station (National Public Radio). It is usually hosted by a real live person, selecting the music from our incomparable song library, or a personal record collection that probably includes songs you'll never hear anywhere else.
This Radio plays the whole range of bluegrass, old-time, classic country, folk, rare blues and jazz, zydeco, roots and modern Americana, and even a taste of Grateful Dead. Shows originate in Washington studio, as well as radio in stations and studios around the US and the world, and include live performances as well as records.
https://ice24.securenetsystems.net/WAMU2
WAMU HD2 Bluegrass Country
Recommended US Country Radio
All Reviews For This Radio Station