HardRadio.com - HardRadio Listen Live & Free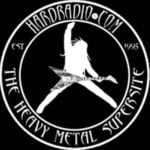 HardRadio.com is a trendsetting online radio network that celebrates hard rock and metal music. Tuning in around the clock, 24/7, audiences can select from a variety of shows and channels that bring forth different styles of heavy music genres from classic metal, hard rock, and alternative sounds to modern hard music. With regular on-air appearances from lively DJs, programming is constantly renewed and cutting-edge, along with song commentary and artist interviews to help fortify the association with its large fanbase.
With high production values in tandem with multimedia content, HardRadio continues to thrive as an international forerunner in hard rock streaming media with an audience base covering more than 135 countries worldwide.
https://securestreams7.autopo.st/?uri=http://144.217.29.205/;
HardRadio
Recommended US Metal Radio
All Reviews For This Radio Station