96.3 Arizona's Real Country, KSWG 96.3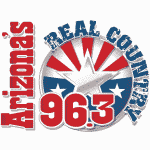 96.3 Arizona's Real Country is the brand name/moniker for the call sign radio station: KSWG 96.3 MHz. It is a commercial Class: C FM radio station licensed to Wickenburg, Arizona to be broadcasted to Northwest Phoenix metropolitan area. It is owned by Barna Broadcasting LLC and airs a classic country radio format. The station is considered a rimshot broadcaster because its transmitter is more than 50 miles from downtown Phoenix, Arizona. It's slogan is "Arizona's #1 Real Country".
All Reviews For This Radio Station
hello! I heare your station in germany via internet. many greetings to you and thank you for the good musik!