Classic Country 100.9, KAYO
This Radio Is Available In USA Only!!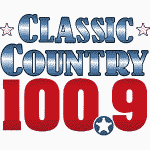 Classic Country 100.9 – is the brand name for the call sign radio station KAYO. It is licensed to Wasilla, Alaska, and catering to the listeners of the Mat-Su Valley. It is owned and operated by Alpha Media Licensee LLC. Its studios are located in Anchorage (two blocks west of Dimond Center), and its transmitter is in Lazy Mountain, Alaska. It's a class C2 (ERP: 50,000 watts) radio. It's a Classic Country formatted broadcast radio station. It's sister stations are KBRJ, KEAG, KFQD, KHAR, KMXS, and KWHL. It is operating since 2009.
All Reviews For This Radio Station